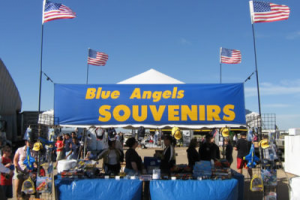 The Drive-In airshow format is respecting the current need for distancing and minimizing crowd gathering, the Retail Vendors is no exception to this. You will have the opportunity to choose a Wings Over North Georgia teeshirt, Thunderbird Merchandise to include teeshirts, hats, novelty items, souvenir coins, pins and patches. If you forgot your earplugs, we'll have those too!
Upon arrival you will receive a map noting the location of all vendors. You will find them in the Food Court area, but in addition they will be driving through your aisle. Stop them to get your special momento!
We ask that when you frequent either the restrooms or any of the vendors that you wear your mask and respect the 6 ft. rule of distance between fellow airshow attendees.
Our goal is to always maintain quality products to fully satisfy our air show fan's experience!

ArmedForcesStore.com to pre order your items!