Great for Families–Corporations–Groups–Sponsors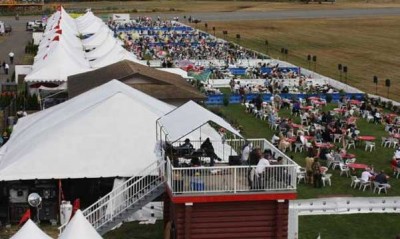 This is the best way to enjoy all the air show activities in style with your family, friends or co-workers. Our Private Chalets have crowd-line viewing area plus a private chalet tent area. The chalets are positioned near show center providing guests with prime viewing and photography opportunities.
The private chalet style tent allows guests to enjoy the air show experience with catered food & beverage services (available on-request) in a comfortable relaxed atmosphere. Each unit includes a 20′ x 40′ enclosed chalet and 20′ x 30′ front porch viewing area. Private restroom facilities are provided for the chalet village guests. Reserved airport parking is another amenity included with the private chalet packages.
Chalet Village areas are only accessed with the proper credentials which will be provided for your group and enforced to ensure your complete air show experience and privacy are maintained.
Book your Private Chalet today, please contact Tina Talton at the Air Show Office: (706) 291-0030 or Email: tina@wingsovernorthgeorgia.com.
Private Chalet Saturday: $3,600 Each
Private Chalet Sunday: $3,600 Each
Chalet Packages Include
Private Chalet Facility
72-Private Chalet Entry Passes
18-Reserve Airport Parking Passes
Crowd-Line Seating & Viewing Area
Enclosed Dining & Relaxation Area
Private Restroom Facilities
*Plus Local Sales Tax