MUSIC TO TAKE YOU BACK IN TIME (CONFIRMED)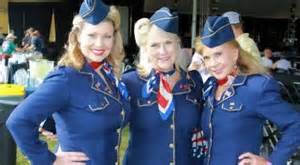 Ladies for Liberty is a singing troupe dedicated to performing the Andrews Sisters style of music through their own rendition of vocals, costumes, hairstyles and the spirit of patriotism reminiscent of the 1940s.
Remember "Boogie Woogie Bugle Boy," "Shoo Shoo Baby" and "Don't Sit Under the Apple Tree"?
Those songs along with Alexander's "Ragtime Band", "Beat Me Daddy", "Bei Mir Bist du Schoen", "Oh, Johnny, Oh!", and "Lullaby of Broadway" are just a few of the songs in our musical repertoire. They are sure to bring back old memories for a few and establish new ones for all.