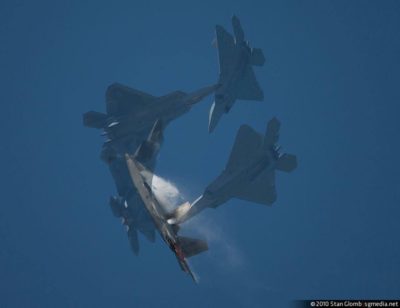 Posted On Aug 30, 2018
ROME, GA (July 2018) Northwest Georgia's favorite family fall event returns Oct. 13-14 for the seventh annual Wings Over North Georgia Air Show presented by JLC AirShow Management. Headlining the 2018 weekend of flying action are the U.S. Air Force F-22 Raptor and A-10 Thunderbolt II Demonstration Teams. The show will once again take place at the Russell Regional Airport in Rome, GA.
Both Air Combat Command Demonstration Teams are assigned to Langley Air Force Base in Virginia and perform at select air shows throughout the season. The stop in Rome is a rare event as it is one of the only air shows to host both demonstration teams. Both acts are guaranteed to deliver thrilling and bone-shaking demonstrations as the aircraft speed across the sky delivering smoke and thunder from the high-powered jet engines. While both serve vital roles in the armed forces, the mission and purpose for each is quite different.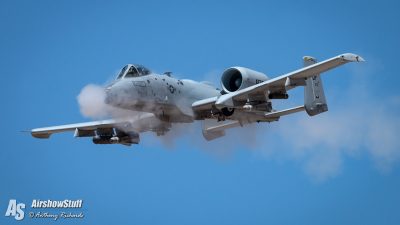 The A-10 Thunderbolt II Flight Demonstration Team took a seven-year hiatus from air show performances but is excited to return for the 2018 season. The aircraft offers a number of unique capabilities such as rapid roll rates, low and high-speed maneuverability, and short takeoffs and landings, making it a premier close air support asset. The jet is designed for close air support (CAS) of friendly ground troops, attacking armored vehicles and tanks, and providing quick-action support against enemy ground forces. It entered service in 1976 and is the only production-built aircraft that has served in the USAF that was designed solely for CAS. The A-10 is piloted by Capt. Cody Wilton.
The F-22 Raptor's combination of stealth, supercruise, maneuverability, and integrated avionics, coupled with improved supportability, represents an exponential leap in warfighting capabilities. The Raptor performs both air-to-air and air-to-ground missions allowing full realization of operational concepts vital to the 21st century Air Force as a fifth-generation fighter. The aircraft was designed primarily as an air superiority fighter, but also has ground attack, electronic warfare, and signal intelligence capabilities.
The F-22 demonstration team pairs with the Air Force Heritage Flight Foundation to present the evolution of Air Force air power by flying today's state-of-the-art aircraft in formation with vintage fighter aircraft.
"The 2017 Wings Over North Georgia Air Show hosted the largest crowds to date exceeding 80,000 attendees over two days. For 2018, we will feature a few new performers while hosting many favorite acts from previous years," said JLC AirShow Management President, John Cowman. "Our line-up of world-class aviators positions our show to be the largest in the state for the 2018 air show season."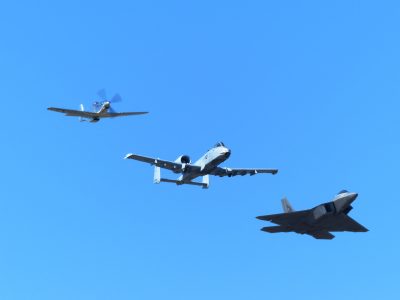 Tickets for the Wings Over North Georgia Air Show are available online at www.WingsOverNorthGeorgia.com. Premium seating and family ticket packages are available with on-site reserved gold and red airport parking options. Guests interested in on-site camping options for the show can choose between premium infield and standard dry camping options.
Airport and remote parking lots will open at 7:30 a.m. with the gates opening to guests at 9:00 a.m. on Saturday and Sunday. The opening ceremonies will kick-off each day at 12:00 noon followed by the first flying performances at 12:30 pm.
The public can follow the Wings Over North Georgia Air Show across social media through Facebook, Instagram, and Twitter. For the most-up-to-date air show news, parking tips, and other event information, please visit the show's social media sites.
The Wings Over North Georgia airshow is an FAA, DoD, and International Council of Air Shows recognized event. For the full list of performers, activities, and ticket options – air show fans, exhibitors, vendors, and sponsors can visit the official Wings Over North Georgia air show website.